Step 1: Click the 'Download TopSolid'Wood' button on the page of TopSolid'Wood on Academic Software to download the installer. Double-click on the file to open it. The installer will download the necessary data from the internet.

Leave the box next to 'Launch Setup' ticked, and click Download.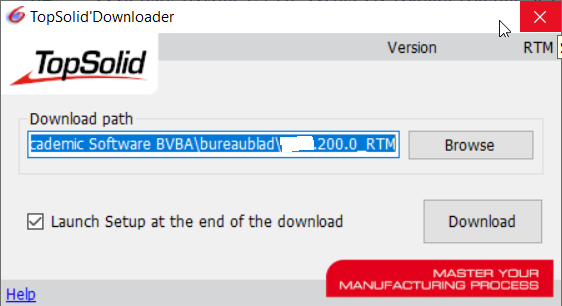 Step 2: Once the download is complete, the setup will start. Please tick the items you see highlighted in the screenshot below. Don't click on Install yet, but first go to the Tools tab at the top. Make sure TopSolid'Update is checked here, then click on Install.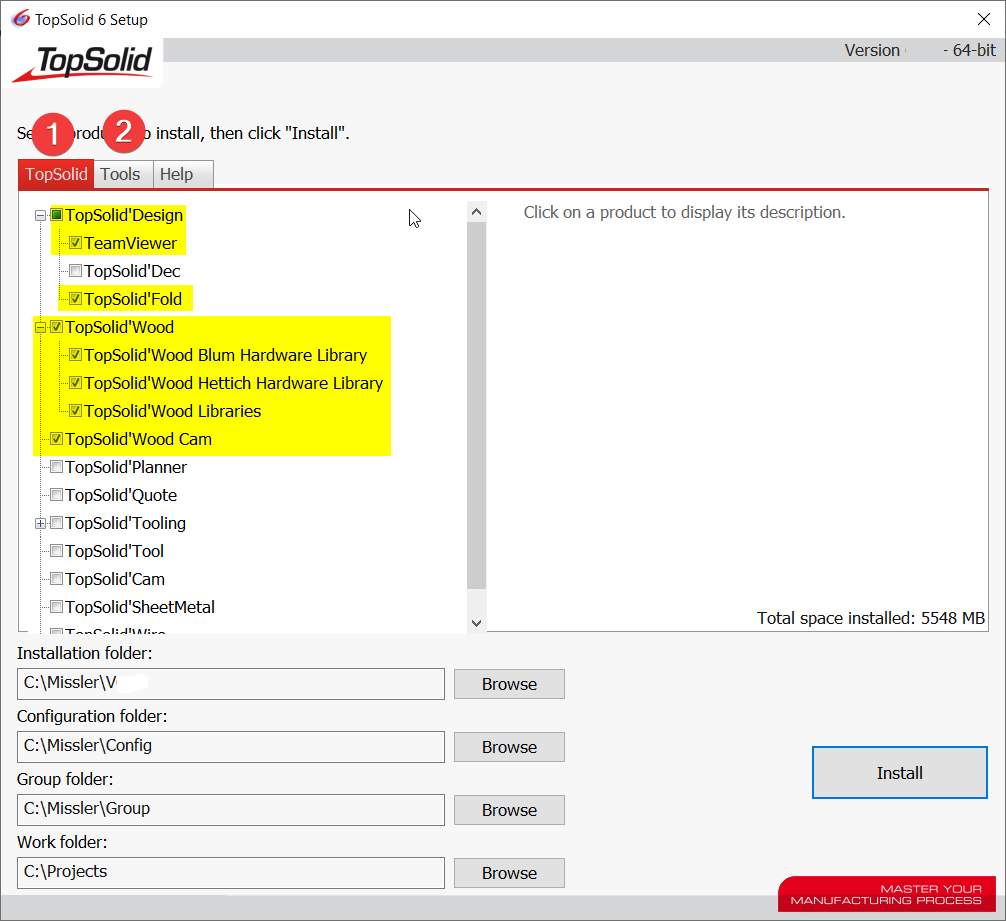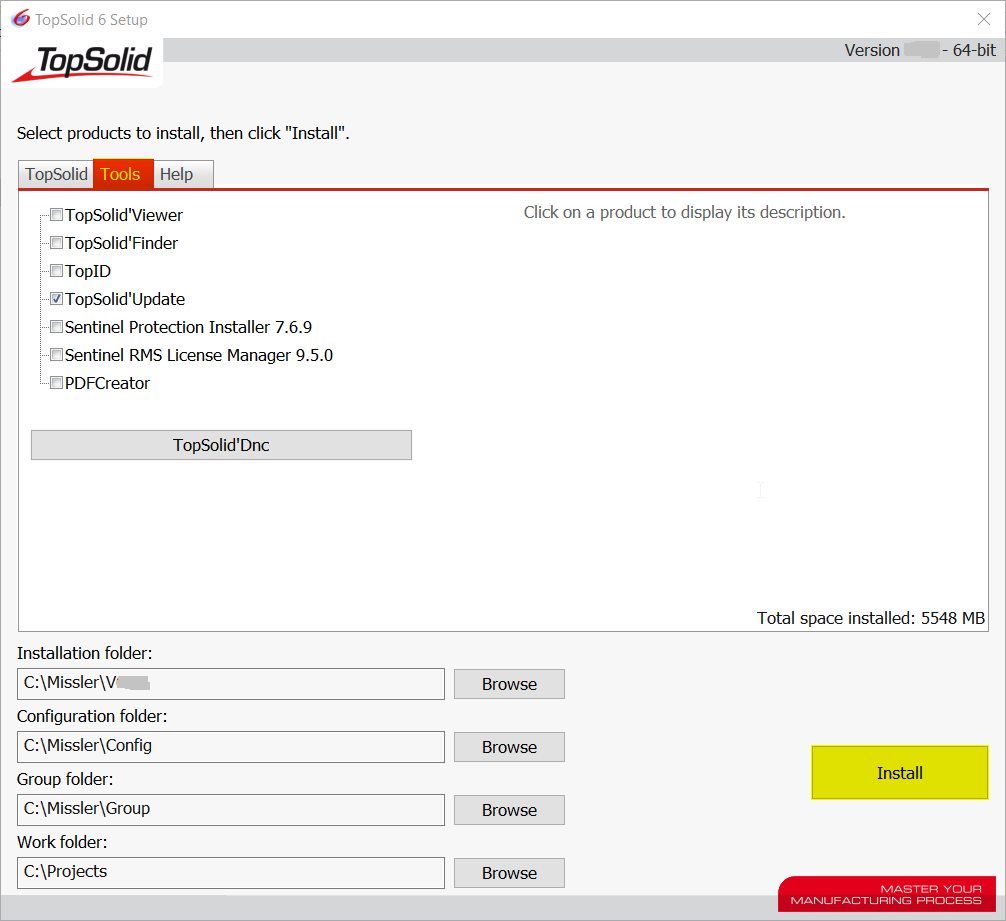 Step 3: Accept the licence agreement. On the next screen, click on Install at the bottom right, after which the installation will start. This will take some time.
Note: If you are prompted to install .NET Framework 3.5 (including .NET 2.0 and 3.0), click on 'Download and install'. The necessary software to use TopSolid'Wood will be installed. After that, the installation of TopSolid'Wood will continue automatically.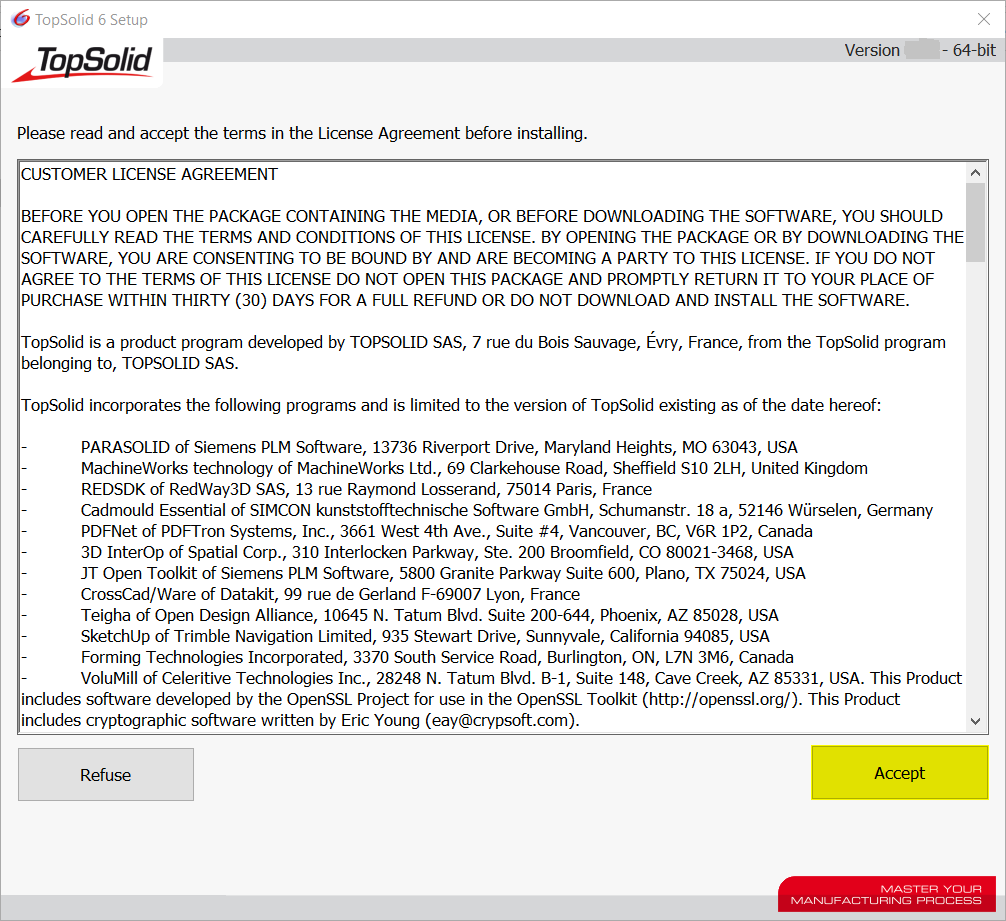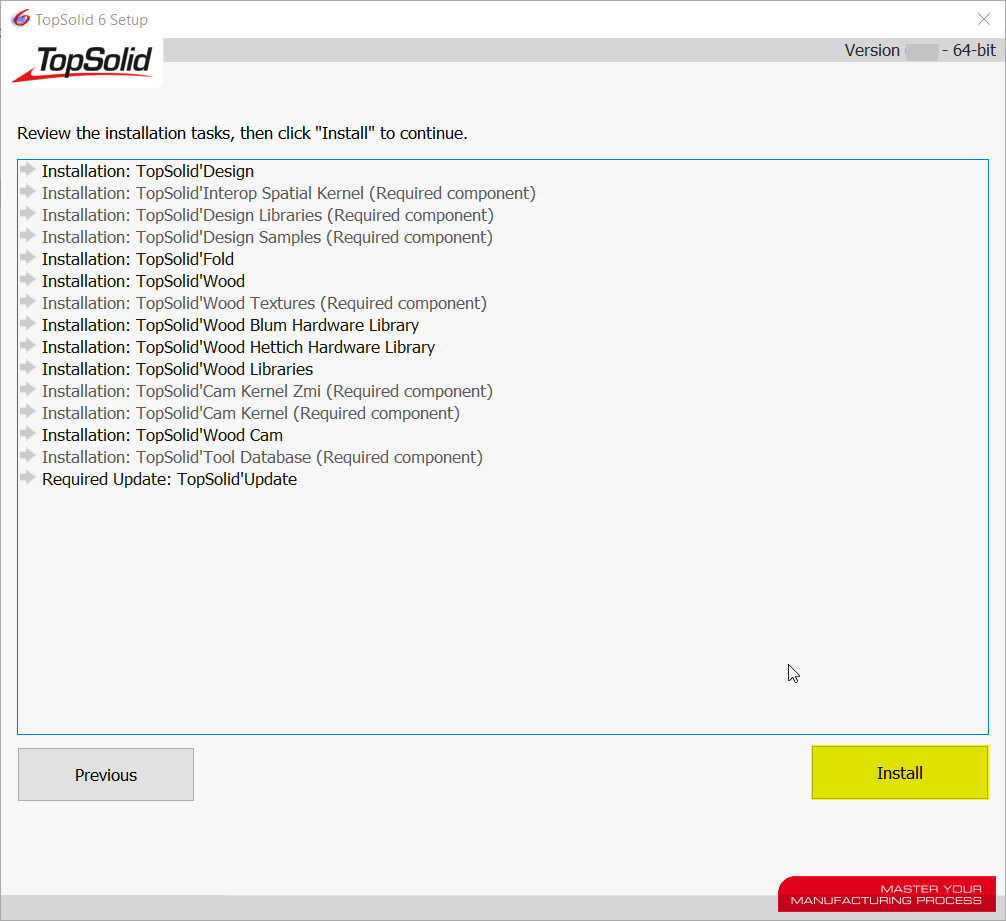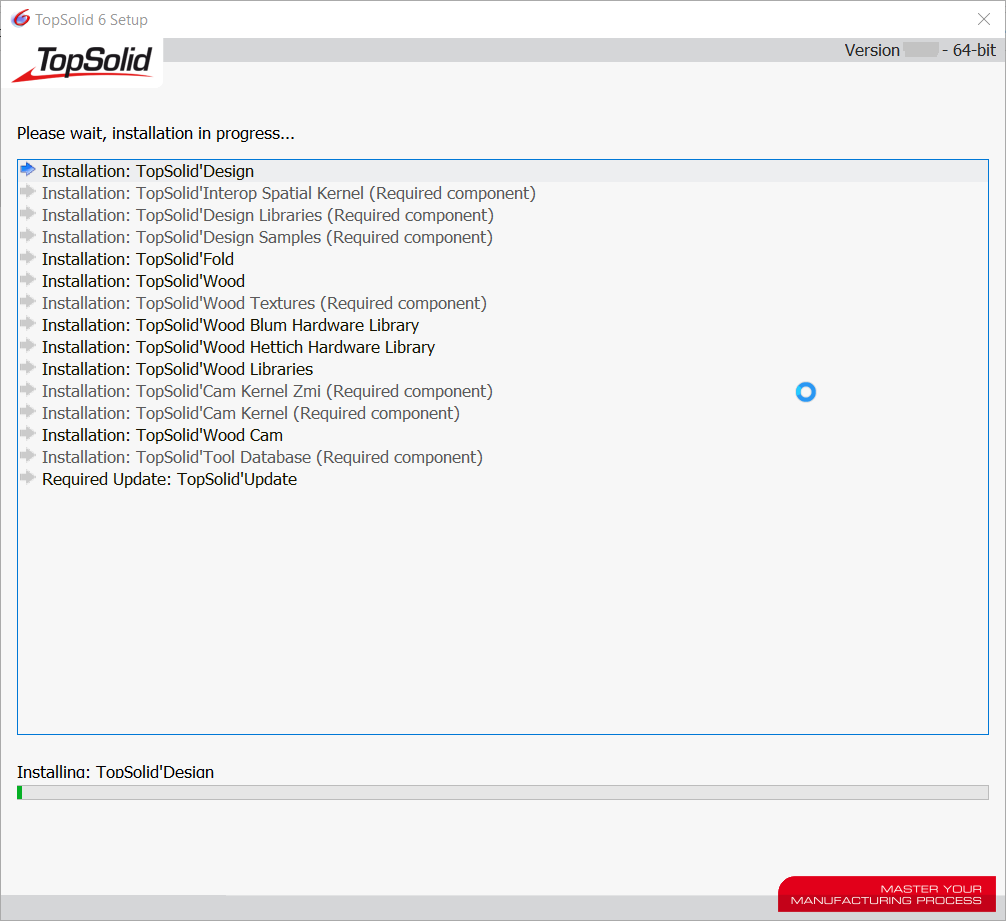 Step 4: When the installation of TopSolid'Wood is finished, make sure to uncheck the box next to 'Reboot Now' at the bottom left. Then click Close to close the installation wizard.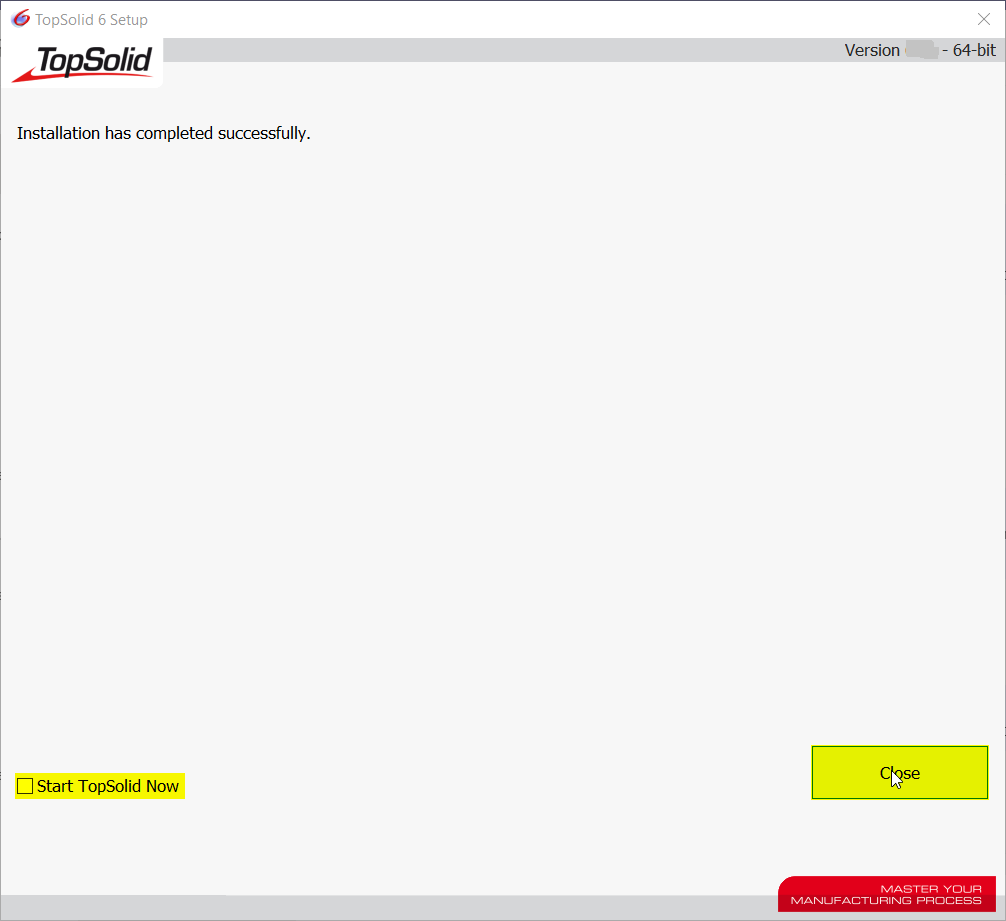 After the installation, a window will appear requesting you to clean the download folder.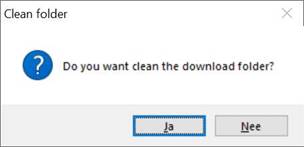 Step 5: Attention: To activate TopSolid at home, you must first connect to HOGENT's VPN. Please connect to it now, before proceeding with the activation. If you have not yet made a VPN connection with HOGENT, you can download the necessary tool from Academic Software.
Step 6: Now we are going to carry out some necessary steps before launching the program. Right-click on the TopSolid icon on your desktop and click on Properties at the bottom of the list. Adjust the Target field to the text below, as shown in the screenshot below, then click on Apply.

C:\Missler\V622\bin\top622.exe -fTOPSOLID/217/6.22
Step 7: Click the Compatibility tab in the Properties window. At the bottom of the window, tick the box next to 'Run this program as an administrator'. Once more click on Apply, then OK.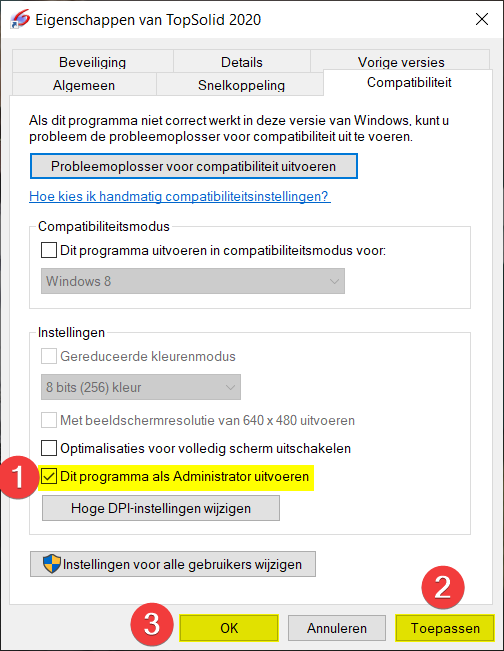 Step 8: Run TopSolid by double-clicking on the icon. Click Yes if you are prompted for additional permissions to modify software. You will always get this message when you start the program.
After that, click OK for the error message below - There are a few things we need to set up to retrieve the licence from the server before the first startup.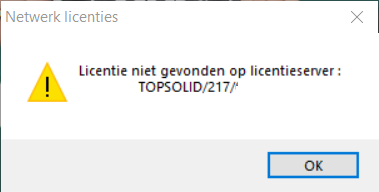 Step 9: Next, fill in the IP address 172.17.0.5 under 'Network server' like in the screenshot below. Then click on Submit underneath that. You will be asked to restart the program. The window will close and the program will shut down.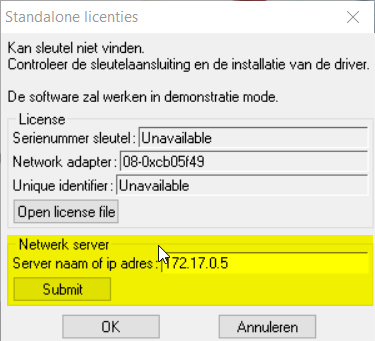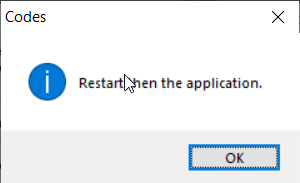 Step 10: Double-click once more on the TopSolid desktop icon to run the software. It will start up as it should and you can now start using TopSolid'Wood.