Attention!
You can only follow the steps below if you have an Exchange Code in the following format:
CC-ABCD-XXXX-XXXX-XXXX
Don't have a code yet? Request one on the platform: https://www.academicsoftware.be/software
Log in with your school email address - smartschool username - r/u number
The software works on both Windows and Mac. You can install it on up to 2 computers of the same user


If the application is 'not active', it is best to open it via the Start menu -> log in with the correct Adobe ID and try again
If you have a Mac, you can use Finder to search for the 'Creative Cloud Desktop App' to launch this app

It is important to know that you must log on to the Creative Cloud at least once every 90 days to access Adobe Creative Cloud applications
Step 1
Go to the Adobe website: https://www.adobe.com/en/
Do you already have an Adobe ID ? Then click on 'Log in' at the top
Don't have an Adobe ID yet? Redeem your CC code via the link and manual below
https://creative.academicsoftware.be/redeem/voucher.php https://creative.academicsoftware.be/redeem/handleiding.pdf
Step 2
Open the Creative Cloud app and verify that you are logged in with the correct email address. You can check this by clicking on your profile at the top right (the blue icon). Verify that the Adobe ID you just used to redeem your code is the Adobe ID you registered with

If this is not the case, please sign out and log in using the correct e-mail address
If your school has several aliases (rxxxx, last name.firt name...) you will see the correct address on this page. This is the same for receiving e-mails, but for Adobe these are two different, separate addresses.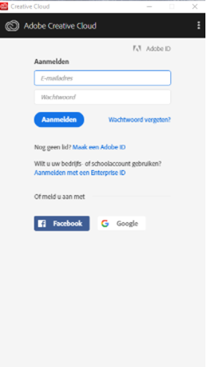 Step 3
You will see the window below. Click here on 'Enterprise ID' or on 'Adobe ID'.
By default, this will be Adobe ID. If you are given a choice between two different IDs, you must choose the Enterprise ID.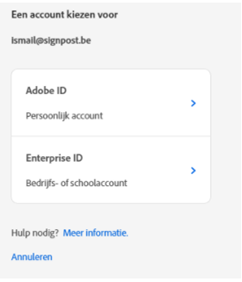 Once you are logged in, you will see that you have full access to the Adobe package. If certain programs are missing, this program will not be available for your computer type due to problems with existing software or insufficiently powerful hardware.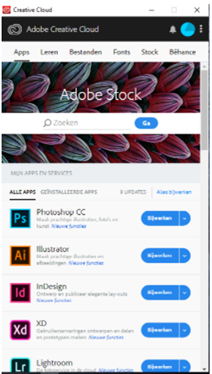 Still have questions/problems?
If you still have questions or problems, you can try one of the following solutions:
If you have questions about the use of the programs, the functions or general questions about the applications, you can look up this information via Adobe.com

At the top of the page you will see a magnifying glass. Type in the question as follows: (product, problem and/or error message) and click 'Search'. This will give you a whole range of possible solutions to your problem.

If you still have questions about functionalities of the Adobe software, you are entitled to Adobe Support. You can ask your questions to both a group of users and to Adobe.

To do so, click on this link: https://helpx.adobe.com/support/creative-cloud.html

To contact Adobe, scroll down. There you will see the different ways to contact Adobe.



If you choose to receive support from Adobe via chat, you will usually receive an answer fairly quickly.


You can also always opt to uninstall and reinstall all Adobe software from your computer. Restart your computer and go to https://creative.adobe.com/starter and re-download all software.
If your problem is not solved after implementing one of the above solutions, please contact us at info@academicsoftware.be.